PET - Technical data

MAIN PAGE | MODELS | SCREENSHOTS | LINKS

Also one has been made many models of PET-CBM with different functionalities, the principal characteristics have stayed unchanged for all the series: the more evident changing was on memory capacity and the increase of graphic possibility. The following table shows the technic characteristic about first model PET-2001 (1977):
PET 2001
Year of release:
1977
CPU:
MOS 6502, 1 MHz
RAM:
4/8/16/32 KByte
ROM:
14 KByte (8 KByte Basic, 4 KByte Kernel, 1 KByte Terminal Interface Monitor [TIM] and 1 KByte reserved to diagnostic control)
Operating system:
Microsoft BASIC (into ROM)
Text resolution:
40 x 25 (monochrome)
Graphic resolution:
none
Audio:
none
Keyboard:
The original keyboard was a QWERTY with 73 keys, enough uncomfortable. In the following versions it was changed with a standard keyboard (see photo)
Storage mass memory:
Internal tape recorder Datassette, IEEE488 plug for connection with double floppy drive CBM 8250 or external recorder
Prese I/O:
1 x IEEE488, 1 x Datassette
Monitor:
Versions depend: 9" b/w, 12" green monochrome or b/w.
VERSIONS DIFFERENCES:

PET 2001 - Several versions exsist with differences in RAM memory (4k up to 32k) and integrated monitor (9" and 12"). The following models had a "business" keyboard and major version of ROM (up to 4.0). The normal numeration foresees the number "2001" following by a number that show the amount of RAM.

CBM 30xx - Computers with this initial marks models sold in Europe with 9" monitor and "business" keyboard. They don't have the capability of manage the audio, yet. Numbers "xx" show the amount of RAM (8k, 16k, and 32k). In Germany the model 3001 was appeared, a 2001 version with extended keyboard.
PET/CBM 40xx With 9" monitor.
PET/CBM 40xx With 12" monitor, a new motherboard version and the possibility to show 80 columns. Now there is a simply "beeper" and the 4.0 ROM version.
PET/CBM 80xx With 12" monitor not separable from case. The technical and functional characteristics are the same of previous model.
PET/CBM 80xx With 12" monitor and the possibility to separate the keyboard. There are two versions with different motherboards: the first of these didn't get in on the new case model, so some connections are made with cables that get out and get in on the computer rear. The IEEE488 plugs are absent.

Images on this page are taken
from these links


Thanks to Max Spillus that provided me pages dedicated to PET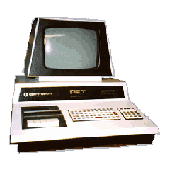 PET-2001 (1977) with
original keyboard.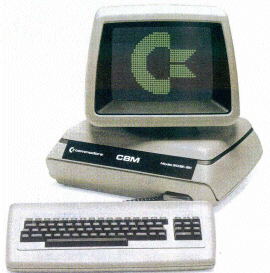 The PET-CBM 8032