TEAM SVILUPPO AMIGA (2007)

Fonte: Rebol.com
Questa era la prima volta dopo tanto tempo che la maggior parte del gruppo dei disegnatori del Commodore Amiga computer si era ritrovata insieme, in occasione del matrimonio di Dale Luck, e cosė venne scattata la foto seguente: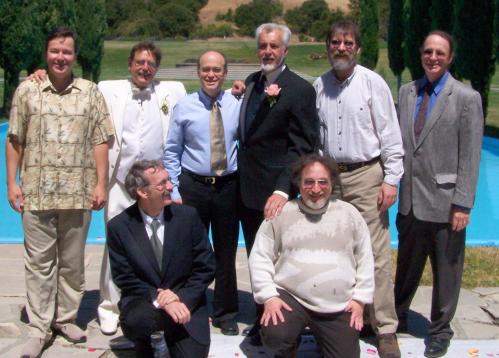 Gruppo originale disegnatori Amiga - "Reunion", Giugno 2007
Wow. Quanti talenti nello stesso posto, cosa dovremmo costruire adesso?
From left to right, front row:
Glenn Keller - HW: Paula chip
Dave Needle - HW: Agnus chip, system boards
Back row:
Carl Sassenrath - SW: Exec kernel
Dale Luck - SW: Graphics (and here, groom)
Sam Dicker - SW: Sound
RJ Mical - SW: Intuition (GUI)
Bob Burns - SW: Printers & input devices
Hedley Davis - HW: "Representing" Commodore
The above photo is public domain, and you are free to use or publish it accordingly. Here is a higher resolution copy: Amiga Team 2007. (Thanks Caryn and Glenn!)
And, to be complete...
It is common to find historic accounts of the Amiga Computer that are not complete. To avoid that happening here, I should mention the other members of the team that had important roles in the design, but are not pictured above:
Jay Miner - HW: Team leader, Agnus chip (morto)
David Dean - HW: Denise chip
Bob Pariseau - SW: Capo squadra
Neil Katin - SW: Devices
Jim Mackraz - SW: Graphics, devices
Bart Whitebook - SW: Graphics
(Ovviamente, questo era solo il gruppo degli ingegneri, and there were many others who helped make Amiga possible.)
The location
The location of the photo is the Pulgas Water Temple, the source entry point of water for San Francisco and surrounding areas.